Please note:
This post was published over a year ago, so please be aware that its content may not be quite so accurate anymore. Also, the format of the site has changed since it was published, so please excuse any formatting issues.
This post is over two weeks late, but it's definitely worth posting.
A few Saturdays ago, Morah and I went to the Bob and Tom Comedy All Stars Tour. A couple of friends of ours had extra tickets and invited us along, so we took them out to dinner beforehand. Dinner was great, but toward the end of the meal we realized that if we didn't leave =right then=, we would be late. The tickets were brought out and divvied up, we payed for dinner, then high-tailed it over to the opera house (which is now called the INB Performing Arts Center, which is a stupid name. I'm still going to call it the opera house).
As we're hurrying in the door, everyone starts pulling out their tickets. That's about where it all started. Morah and I have our tickets, and the other guy has his ticket, but his wife can't find her ticket. She's digging through her purse and we're all a little surprised since she just had the tickets back at the restaurant. Just as we were about to go back out to the car to try and find it, an opera house employee walked up to us.
"Are you trying to find your ticket?" she asked.
"Yeah," we all replied.
"Here," she said, handing Morah and the other girl little slips of paper. "These are near the front. They don't want any gaps."
"Wow, thanks!"
Each slip of paper was good for two people. How cool, right? It gets better.
"Okay, these are in the pit," said the ticket taker. The pit? Really? That really is near the front!
"Enter through door one," she said.
So we proudly marched down to door one and entered. The usher looked and Morah's ticket (well, slip of paper) and pointed down the front row. The very front row. The one where, if you were sitting any closer, you'd be on stage. In the exact center of the front row were four empty seats.
Holy. Crap.
Without those slips of paper, we would have been sitting somewhere in the first balcony! Now, we're so close to the stage I can actually see the comedians eyes!
We quickly discovered why they didn't want any gaps in the front.
The second comedian was Bob Zany. As soon as he got on stage, he grabbed the mic and took a step forward. The moment he stepped forward, I realized what was about to happen. He told a joke, then a moment later leaned down, looked right into my eyes, and explained why the joke was funny. For pretty much the rest of Zany's performance, I was the poor sap in the audience who got picked on. He did pick on a few other people, but I took the brunt of it. It was all pretty funny, though, and he did have everyone give me a round of applause (which was pretty cool).
To thank me for being a good sport, he gave me a T-shirt and a combo pack that had two CDs, two bumper stickers, and a postcard.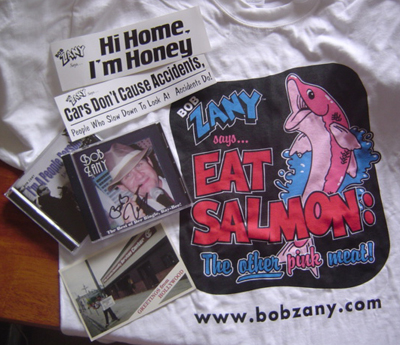 After the show, all of the comedians were shilling selling their crap merchandise and signing stuff, so I went up to Zany.
"Hey, some jerk on the stage threw this crap at me," I said to him. He chuckled.
"Here, let me sign those for you," he said, indicating the CDs. "Thanks for being a good sport."
I appreciated that he said that and didn't just pick on me, which is exactly what one of the other comedians did.
When Tim Wilson came out on stage, his show started off to be quite promising. He told some funny jokes and sang The Jeff Gordon Song (I'm an Earnhardt fan and yes, I do know what the song is saying). The show took a swift and unexpected turn when Wilson decided to pick on me. Like Zany, he picked on other people, but I took the brunt of it.
Suddenly I was known as "25" (my age) and the brunt of Wilson's performance was comprised of jokes that I was "too young to understand." The problem was, I knew what he was talking about (when I could understand what the hell he was saying. Where I was sitting, the echo made it really hard).
He sang a song about drive-in theatres (I've been to one), station wagons with seats that face out the back (I've ridden in one), station wagons with wood paneling (I've seen them), and a bunch of other things that he assumed I knew nothing about.
The only time he really stumped me was when he asked what my favorite Hank Williams Sr. song is. Now, even if I knew any songs by Hank Williams, I wouldn't have known it (I have since found out that Your Cheatin' Heart is a song I know).
Being the butt of Wilson's jokes didn't really bother me (water on a duck), but I was significantly less amused with him than I was with Zany. I think what bothered me the most was that he doesn't know anything about me, but he made me fun of my life experiences anyway. The difference between Zany and Wilson is that, when Zany made fun of me, it wasn't really making fun of me, it was making fun of his own joke. I'm sure no one in the audience actually thought that I didn't understand his jokes, but it's still funny when he explains them. With Wilson, people in the audience probably thought that I didn't have any experience with drive-ins or old station wagons because, hey, I am 25 and those are things that haven't been around for a long time. Plus, Wilson never thanked me for being a good sport, he just lambasted me and walked away. But again, I know it was all in good fun, and it's not like anyone I know (besides the people I was there with) had any idea that he was making fun of me. If it really bothered me, I wouldn't be blogging about it.
In fact, it all makes for a good blog post. -)
0
People like this. Be the first!