Please note:
This post was published over a year ago, so please be aware that its content may not be quite so accurate anymore. Also, the format of the site has changed since it was published, so please excuse any formatting issues.
When Morah and I visited her dad in L.A. this past summer, we bought this really cool rat painting, which we were told was painted by "a well-known local artist named G.M. Bis."
Recently, Phoenix came over to our house, pointed at the painting and said, "That's a Banksy!" Sure enough, here's the original from Banksy's website: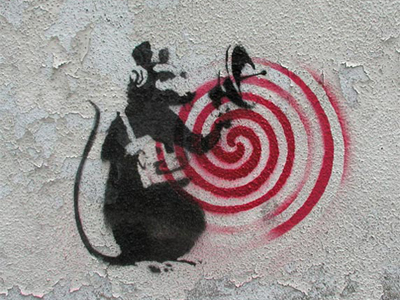 I decided to try to find more information about G.M. Bis, but the Internet yielded no clues. For such a "well-known" artist, why isn't there any information available about him/her online? In fact, the only mentions I could find of G.M. Bis are on the website of the store from which I purchased the painting (along with a few other Banksy ripoffs). It's all very suspicious, to say the least, and I'm starting to suspect that G.M. Bis may actually be the owner of the store (or a friend of relative of the owner). That's pure speculation, of course, but like I said, it's pretty suspicious.
I love Banksy's work, so it's no wonder I was attracted to the piece, but I had I known at the time that it's a ripoff, I wouldn't have bought it (in fact, I probably would have called out the owner right there in the store).
0
People like this. Be the first!