Please note:
This post was published over a year ago, so please be aware that its content may not be quite so accurate anymore. Also, the format of the site has changed since it was published, so please excuse any formatting issues.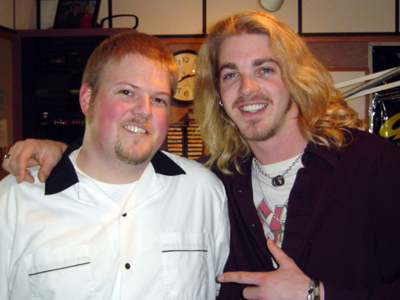 As promised: A snap of me with Bucky Covington.
While I'm not a huge fan of country music (or American Idol), it was fun to meet Bucky. We went to a local radio station where he was being interviewed on the air. We entered the booth (which was quite large; there were over a dozen people, my group included, all comfortably in the booth at the same time) during a commercial break, and Bucky had a huge smile on his face. He shook everyone's hand and asked their names. He was a really nice guy and went along with everything we asked of him.
One of our video production guys was there shooting some video and our promotions director had interview questions. She didn't want to do the interview and asked me to do it, which I did (of course! I enjoy interviewing people). I even slipped a couple of my own questions in there.
So, to recap how cool my job is, I got paid to interview Bucky Covington (and if that's not cool enough for some people, there were free gummy bears, as well).
0
People like this. Be the first!