Please note:
This post was published over a year ago, so please be aware that its content may not be quite so accurate anymore. Also, the format of the site has changed since it was published, so please excuse any formatting issues.
With the passing of I-502 in Washington State, marijuana is now legal to possess and smoke. I realized that all of those "Legalize It" T-shirts are now obsolete, so I'm pleased to introduce my new "Legalized It" line of products!
There are two designs available: A generic version, and one specific to Washington State.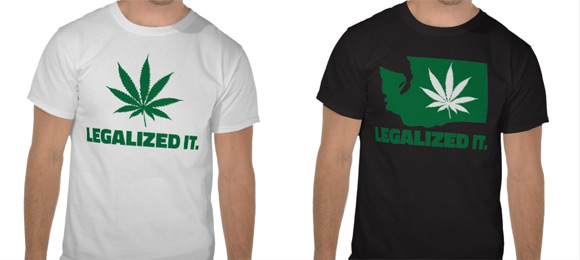 The other big change I made to my Zazzle store was to lower prices. I reviewed every single item I'm selling and slashed prices across the board. Perhaps now that shirt you've been eyeing is finally available at a price you can afford! Remember, many of my designs are not G-rated, so to view them all you'll need to turn off the content filter (there is a link to do so in the left-hand column).
Future changes will include more product variety. I currently only have shirts available, and while most of my designs give you the option to put them on any article of clothing, Zazzle has a ton of other great products available. Expect to see my existing designs available on more products from now on.
There are a ton of new design ideas in the queue, so keep an eye out for those. I'll post about them here as they become available, but the earliest notifications will come from the RSS feed for my store.
I'd love to hear feedback on my designs. Do you like them? What products would you like to see them on? If you have an idea that you would like me to create, let me know!
20
People like this