Please note:
This post was published over a year ago, so please be aware that its content may not be quite so accurate anymore. Also, the format of the site has changed since it was published, so please excuse any formatting issues.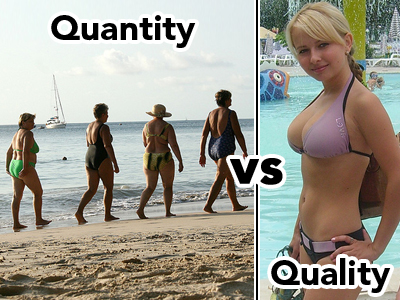 I have been successful in writing a new post every day since early last month, which is nice in terms of quantity, but have the quality of the posts taken a hit a result?
Obviously, it's hard for me to judge the quality of my own work. After all, I wrote it and doing so makes me close to it. I could turn to my Google Analytics, but what criteria do I use to judge? If I compare January 2009 to December 2008, I have increases in visits and pageviews, but if I compare January 2009 to January 2008, those same metrics have gone down (although by a smaller margin).
Word count isn't an indicator. As we all know, the people who talk the most often say the least, and the most poignant axioms tend to be light on words.
The number of comments could almost be an indicator, but not every post is designed to foster conversation.
So before this post suffers from its own topic, I want to put the question to you, my readers. Have you been enjoying my posts lately? I haven't felt desperate for topics, and I have managed to write about a number of topics that I've had on my mind, but I know from past experience the day will come when I just don't have anything to say.
Have you liked the topics? Have you liked the pictures? Do you want fewer posts that are longer, or more posts that are shorter?
0
People like this. Be the first!