Please note:
This post was published over a year ago, so please be aware that its content may not be quite so accurate anymore. Also, the format of the site has changed since it was published, so please excuse any formatting issues.
For the second year in a row, Morah and I went to the Sasquatch Music Festival. This year, a friend of Morah's came along, as did both of their mothers. The day was nice and the music was great. At one point, the four girls wandered off. When they came back Morah told me that someone had taken their picture and handed them a little ticket with a number on it so they could claim the photo online.
A few days later, Morah logged on and found this: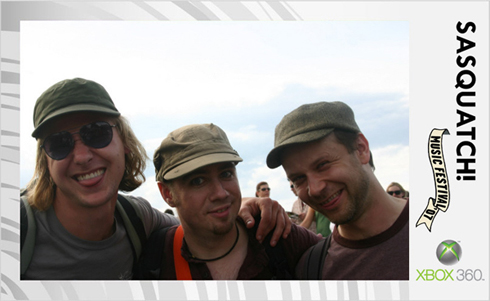 What the hell?
We double-checked the number, but it was correct. We tried changing the number by one digit, thinking that perhaps the tickets had gotten off by a few people, but the new number didn't exist.
What could have been a really cool promotion for the XBOX 360 turned out to be a giant screwup.
Worse, there could be some major privacy and legal violations at play. I'm sure that most of these people agreed to have their pictures taken under the impression that they wouldn't be seen by total strangers and posted onto said strangers' blogs. You do have to agree to release your image (for display or other transmission, exhibition, publication or reproduction) to XBOX before you can claim it, but now Morah has just released the above image to XBOX. What if the people in the image didn't want to release their likeness? And what about the picture of Morah and the girls? Who has that image? What rights does Morah have to the real image of her? What right does she have to protect her likeness? What rights does Morah have to the image above? Am I breaking the law by posting it on my blog?
So good job, XBOX. Way to totally mess up what was a great idea.
0
People like this. Be the first!