Please note:
This post was published over a year ago, so please be aware that its content may not be quite so accurate anymore. Also, the format of the site has changed since it was published, so please excuse any formatting issues.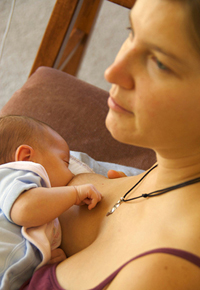 Although I'm late in writing this post since this issue is now resolved, I wanted to write it anyway because of a conversation we had at work today.
For those who have no idea what I'm talking about, popular social networking site was banning pictures from its site that depicted women breastfeeding their children. A lot of people (most women, but not exclusively) were unhappy with this, arguing that breastfeeding is a natural act, and that hiding it or calling it inappropriate could potentially cause new mothers to shy away from doing it.
Those against it argued, if you call breastfeeding natural, where do we draw the line? Nudity is natural, sex is natural, so how do we delineate between them?
The resolution to the argument came from Facebook in the form of a modification to their photo policy: breastfeeding is acceptable, provided no nipples or areolae are visible. This change came after supporters protested both online and in person at the Facebook headquarters in Palo Alto, CA.
The initial ban was, however, not up for debate. Facebook is not public property; the First Amendment doesn't apply there. Because Facebook is owned by a company, the rules of the site are at the company's sole discretion. If the company doesn't want pictures on their website, it's not affront to the Constitution but a completely legal decision, and one with which the members of the site must comply.
In an instance such as this, there are only three remedies: deal with it, stop using the service, or complain to those in charge. In this case, the latter option worked and Facebook revised its photo policy, but had they remained steadfast, they wouldn't have been wronging anyone.
The discussion we had at work that caused me to think about this again was one about serving alcohol to people at restaurants. One of the women in the office is pregnant, and we were joking about going down to a restaurant for happy hour. That brought up a story about how a restaurant once got sued for refusing to serve alcohol to a pregnant woman, and that restaurants are legally required to serve you.
I quickly pointed out that this is not the case. Restaurants, like any other business, have the right to refuse service to anyone for any reason (including none at all). Further, if you are on private property (which you usually are if you're in a restaurant) and are asked to leave, failure to comply with the request is illegal; at that point, you're trespassing.
The same is true in your place of residence. If someone comes over to your house and is being a jerk, you can tell them to leave and call the police if they don't.
The bottom line is that, although we have freedom of expression and the right to be (almost) anywhere we want in public, those same rights cease to apply in a private setting.
0
People like this. Be the first!