Please note:
This post was published over a year ago, so please be aware that its content may not be quite so accurate anymore. Also, the format of the site has changed since it was published, so please excuse any formatting issues.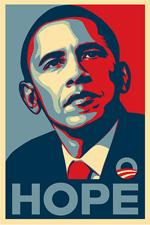 In 2000, I was disappointed Bush won the election. In 2004, I thought there was no way the citizens of this nation would reelect him. In 2008, we were offered a simple choice: continue with the same bullshit for another 4 years, or change our government in ways about which we could heretofore only dream.
Today, that change comes to America. Today, hope is not on the horizon, but in our hearts and our government. Today is the day the world once again stands with us in unity. Today, history is made.
Remember where you are and who you're with – in 40 years, you'll be telling this story and fondly remembering the day the leadership of our great nation was placed in the kind, capable hands of Barrack Obama.
0
People like this. Be the first!